These tips provide you with some of the key areas that need to be considered during the selling process.
Once you have decided to sell your property, invite a friend or family member to your home and ask their advice as to how the property presents. Stress to them that 'blunt is best'. Alternatively, feel free to drop in and see us at Ray White Drummoyne for some advice and direction on how to best present your home for sale.

External Impressions
First impressions of your property begin well before someone steps inside the door. Prospective purchases are on guard from the time they step out of their car, hence the gardens, lawns, driveways, eves and window frames are to be in the best possible condition.
Internal Impressions
Just as important as the outside, the inside of your home must present equally as well. Pretend you are a purchaser coming to inspect your home. What do you see? The main features of your home to give most attention to are ceilings, light fittings, light switches, power points, skirting boards and shower screens and recesses. Pay particular attention to having rooms uncluttered and frees of any 'stuff'. Do not wait until the property is sold before you commence clearing the 'stuff'. Particular attention needs to be given to a few rooms, specifically the kitchen and bathroom. Both need to be immaculately clean and smelling fresh.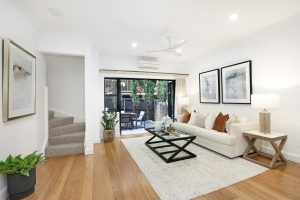 The Selling Process
Now that your home is ready for sale it is time to select an agent who will work with you to gain the maximum sale price. If you have not already, start collecting the Sydney Morning Herald Domain and relevant local papers in order to gain a sense of what is comparative to your property. The best guide to choosing a real estate agent is by referral from either friends, family or business colleagues that have had a previous experience with that agent and can highly recommend them. A personal recommendation is always a good starting point.
Another way of testing real estate agents is by going to an open home in your chosen area and seeing first hand how potential buyers of your property will be treated by the agent and what experience they will come away with. Once you have short listed two to three agents, invite them to give you a market appraisal and explain how they intend to market your property.
The two main methods for marketing Sydney property are either auction or private treaty. The Sydney market lends itself greatly to the auction method of sale, however, depending on current market conditions your agent will advise you on the most appropriate method. Remember the market will ultimately determine the value of your property. Once you have appointed an agent, he or she will take you through the sales process and what needs to be done from there. Remember that you can not sell a secret and your property needs to be put in the market place.
Just like when you entertain family or friends at your home, your home is on show during the open house, so you want to create the best possible impression on potential buyers to gain the maximum price. Remember presentation is the key. Little things like fresh flowers, background music and lighting can make all the difference. Your agent will be able to advise you further.
From here your agent should provide you with regular updates and feedback from what the buyers are telling him or her. We wish you the greatest success in selling your property.