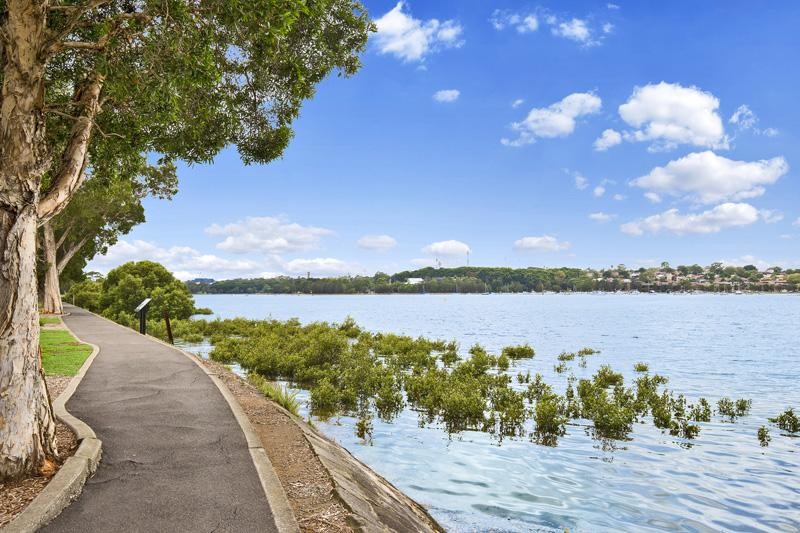 Brent Clements Rodd emigrated to Australia in 1822 with his widowed father and 2 brothers. Rodd purchased two allotments with frontages to Iron Cove and Iron Creek in 1838. He married Sarah Janet Robertson the year later. They had eight sons and four daughters after whom the local nearby streets were named.
Rodd Point marks the spot of the family vault with an outlook to the Iron Cove and Iron Creek off their land. The Family Mausoleum (Vault) carved from a sandstone outcrop, was positioned at the Point that overlooked the beautiful views of Iron Cove. The vault is marked by a large Cross hewn from one piece of sandstone.
Today Rodd Point is an established area of 37.7 hectares. It is located south of Russell Lea and Drummoyne.
Rodd Point is a good starting point for the bay run which is a 7km run/walk/cycle path. On weekends there are literally hundreds of people, out for a walk or run or cycle – it's very pleasant by the bay, on the walking track, away from cars.
Looking for something a little more laidback, recover from your hangover in Timbrell Park, a leafy landscape with water views, tables and chairs and plenty of shade under which to rest your weary bones. Have yourself a BBQ and a few fortifying beers and you'll soon be wondering what all the fuss was about.
Things to see & do…
Run/cycle the length of the bay run – once, twice, three times
Check out the sports at the local Timbrell Park
Enjoy a leisurely stroll along the waters edge
Getting there…
Distance: 6km from CBD
Bus: from Circular Quay