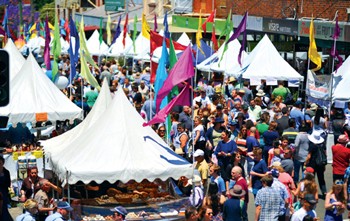 Haberfield was established as an estate in 1901, the year of Australia's Federation. It was built following the overseas Garden Estate movement, which was a reaction to closer, 'insanitary' settlements of the earlier suburbs. When establishing the estate, Richard Stanton used the slogan "Slum-less. Lane-less. Pub-less." This indicated that he was designing a 'genteel', residential suburb of free standing brick houses which did not need back lanes because every house was sewered.
Today, Haberfield is on the Register of the National Estate. Haberfield was the first suburb as a Heritage Conservation Area. This means that all new buildings, or external alterations to existing buildings, must be in keeping with the character of the suburb.
Haberfield is well known for a number of large and original Federation homes with the average land size of 700m2. The size of Haberfield is approximately 2km2, of which 3 parks cover nearly 4% of that total area. There is 1 school and 4 childcare centres.
Not that you need to travel into the city to satisfy any hunger pangs. Haberfield and nearby suburbs boast some of the finest and most reasonably priced restaurants that you find anywhere in Australia.
Things to see & do…
Watch the locals, whilst enjoying wood fired pizza with a glass of wine and end the day with a palate cleansing gelato or Italian pastry
Discover great coffee, a big deli selling beautiful prosciutto and cheeses, a Italian butcher, try some delicious Sicilian biscuits and cakes
Discover Haberfield by doing the heritage tour conducted by Concord Heritage Society
Getting there…
Distance: 6km west of CBD
Bus: L39 from Haberfield Shops – Wynyard/Harrington Street
Bus: 436 Chiswick – Haberfield – Circular Quay